The problem --- to those who see it as a problem --- is that the cold waters from the deep are welling up to the surface in the middle of the Pacific Ocean, and that's directly affecting the tropical trade winds and indirectly affecting the weather patterns across the planet.
It's not simple, because the mechanisms of Earth's climate and weather are not simple. Still, meteorologists, climatologists and other scientists have been working on the subject for a while now and are getting better at predicting the specific effects in particular places. Here in Panama, October was unusually cool and wet, while in most of the United States it was dryer and warmer than usual. But NASA is projecting that the northwestern states will have a colder than usual winter and the southeastern states a warmer one, with California and Florida dryer than usual and other parts of the country wetter. Our neighbors in Ecuador and Peru should expect the coming few months to be dry, while Venezuela is likely to be unseasonably wet.
And Panama? The Empresa de Transmision Electrica SA (ETESA) is a state-owned company that runs the power lines for the otherwise mostly privatized electric generation and distribution businesses, and it has a meteorology department that tries to figure out how much rain will be filling the reservoirs behind the country's hydroelectric dams how full. ETESA scientists are predicting a rainy Christmas and at least four cold fronts that will bring rains with them during the usually dry first three months of 2011. Because it affects the water supply on which the gravity-operated Panama Canal locks depend, the Panama Canal Authority also has scientists working on similar projections but hasn't had any public comment about the subject.
In the United States the National Oceanographic and Atmospheric Administration (NOAA) is projecting the La Niña effect to linger into next summer. Peru's National Meteorology and Hydrology Service is projecting that the phenomenon will start to weaken this month. The two predictions are not necessarily contradictory, and what we are hearing from Panamanian government agencies just goes through March.
Our Ministry of Agricultural Development is taking the situation seriously indeed. So far it has had to deal with crops washed away by floods or landslides, or rotted in fields that were too soggy to harvest, and has been issuing recommendations to farmers about changing certain crop planting times due to the unusual rains. The planting of melons in the Azuero Peninsula is particularly affected because it has been too wet to plant and the ministry is recommending either later planting or a switch to crops like rice or plantains that like more water. It is expected that we will export only about half as many melons in the coming months as compared to the same 2009-2010 growing season. The industry of evaporating seawater in shallow ponds to produce salt is also always adversely affected by dry season rains. Less predictable are the altered mix of insect pests and crop diseases that come with short-term weather anomalies as well as longer term climate change, but it is readily foreseeable that these important farming factors will also vary.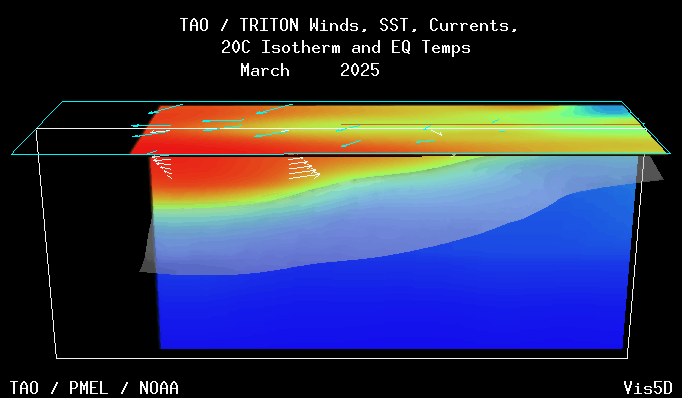 A US National Oceanographic and Atmospheric Administration time-lapse view of what has been going on with Central Pacific Ocean water temperatures and currents.